Making a map in Minecraft can be a tough prospect, especially when you're just starting off in a new world and it is one of the items you desperately need. That's a brutal kind of irony when you think about it, but thankfully there are some mods that can alleviate the grief of getting lost in your hundredth new world, or whatever the number might be. Xaero's Minimap mod gives players a miniature map with a bird's eye view of their current location and their immediate surroundings. It is essentially the exact same minimap system from the Better PVP Mod, only as a standalone feature.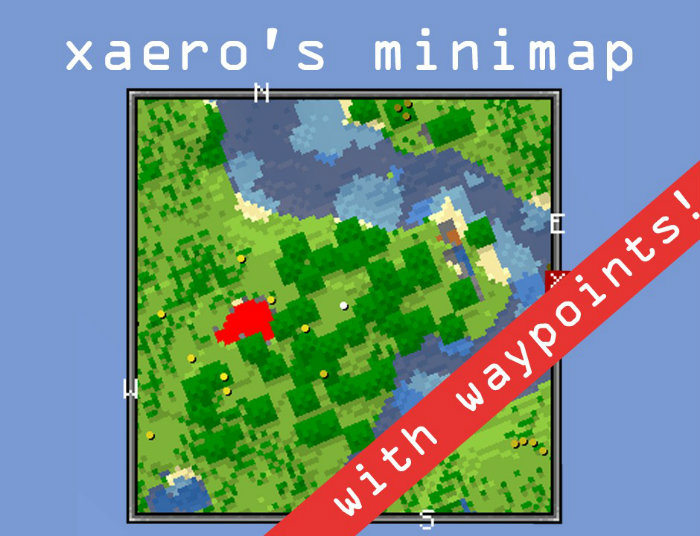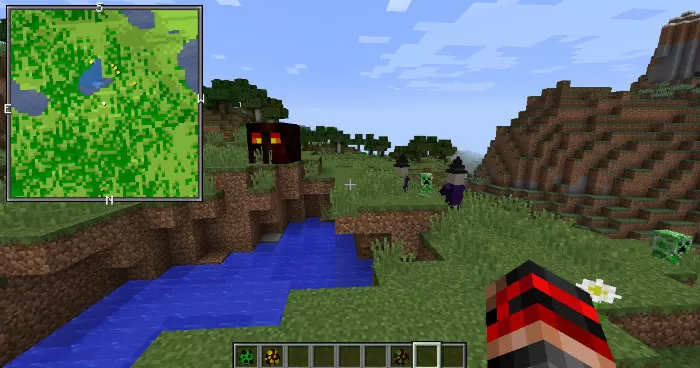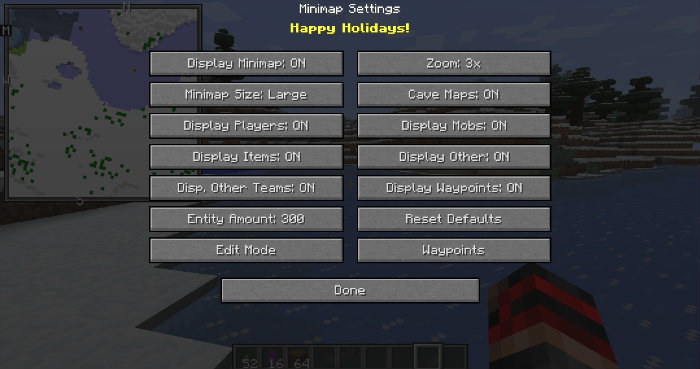 This is great news for players who have been banned from online servers for using the Better PVP Mod and it is good news even for the ones who haven't because it gives a reliable, easy-to-read map which is always present. The location of the map can be moved to various corners of the screen, and it works both above and below ground level, seamlessly switching from a surface view to a cave view. Mobs will show up as yellow dots, players as white, usable items as red and other things like picture frames and arrows will appear as purple dots. Xaero's Minimap mod could be the best map mod in Minecraft today.
Xaero's Minimap Mod Changelogs
Minecraft 1.12 and 1.11.2
Fixed config file not working properly with modified /config folder locations.
Fixed automatic updater (Patreon reward) not working correctly with jars that are not directly in the /mods folder.
Fixed automatic updater (Patreon reward) not working for renamed mod jars.
Updating the mod manually will now also open the correct jar folder if it's not the /mods folder.
Minecraft 1.9.4 and 1.8.9
Automatic update checker.
The improved frame around the minimap.
New key bind to quickly add a new waypoint. Set to "B" by default.
Added an option to scale entity dots for larger resolutions.
Added a new keybind which lets you toggle both ingame and on-map waypoints.
Bug fix: waypoints list crashing the game in The End dimension.
How to install Xaero's Minimap Mod?
Because this mod works with Minecraft Forge, you must download it and install it on your Minecraft.
Download the mod jar file and do not extract the jar file!
Go to "C:/Users/YOUR USER/AppData/Roaming/.minecraft/mods" or to equivalent folder on other OS' and put the jar file from the "Forge" folder in there.
Now, just open Minecraft with Forge profile!
Download Links for Xaero's Minimap Mod
for Minecraft 1.12
for Minecraft 1.11.2 / 1.11
for Minecraft 1.10.2
for Minecraft 1.9.4 / 1.10
for Minecraft 1.8.9
for Minecraft 1.7.10
Credit: xaero96 – Original Thread on Planet Minecraft