The Binocular mod is a great mod that, as you can likely tell by simply reading the name, has been designed to implement binoculars into the game. This is a pretty clever mod that's been executed in flawless fashion and its functionality actually makes you feel like it should've been a part of vanilla Minecraft from the beginning. It might take a little getting used to but, once you've figured out the basics of the mod, you'll be able to utilize it to great extent in order to take your Minecraft experience to the next level.
It's important to remember that, before you can actually start utilizing the binoculars, you'll have to craft them. Fortunately, you'll be able to craft these things with relative ease since the recipe doesn't really have items that'd be particularly rare to find. Once you've crafted the binoculars, all you have to do is equip them and you will be able to make use of them. There are various different keybindings for using binoculars and these might feel overwhelming at first but you'll likely get used to them in mere minutes. You can adjust the keybindings according to your preferences as well is you aren't completely comfortable with how they've been setup.
As for the functionality itself, the binoculars featured in the Binocular mod will allow you to look great distances ahead of you. They're actually a pretty useful scouting tool that you can use to do some recon on a particular area before you set foot into it because they'll show you pretty much every single thing there is in that area. The binoculars display the exact coordinates of every single entity as well and this information can actually be quite useful at times. All said and done, you should definitely give the Binocular mod a shot because it adds an incredibly useful item into Minecraft.
In-game default keys:
Crafting Recipe: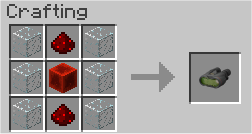 How to install Binocular Mod?
Download and install the recommended Minecraft Forge for your Minecraft version.
Download the latest mod version for your Minecraft version.
Put the .jar file into the mods folder of your Minecraft installation.
Download Links for Binocular Mod
for Minecraft 1.12
for Minecraft 1.11.2
for Minecraft 1.10.2 / 1.10
for Minecraft 1.9.4
for Minecraft 1.8.9
for Minecraft 1.7.10
Credit: MahgarSumir – Original Thread on CurseForge