Even though the names are spelled differently, Cake Defence and Cake Defense 2 are both actually from the same author. This second entry in the popular map series introduces more monsters, more hazards and more stress to a game formula which already had players feeling anxious. Unlike the first selection, the Cake Defense 2 map is actually suited specifically for multiple players, so play alone or with up to two friends to try and beat it. 25 different mob types will have you swinging your sword, shooting arrows and trying anything else to kill them before they make it to your cake and end the game.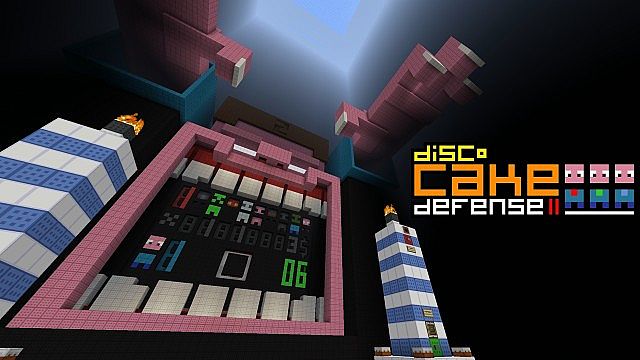 Video
That's right – the objective is still the same as in the first one. The map is much easier to reset than the first one was, too. A couple button presses and a simple command will fix most issues, like mobs which don't spawn or rounds which don't end. Many mods can interfere with Cake Defense 2, so the author recommends trying it with a fresh install of Minecraft for the best performance. Last but not least, this map has a competitive part to it. If you don't want to cooperate with your friends, you can try to beat them by getting the high score in your group!
Cake Defense 2 Map Features
1-3 Players
25 Mob types
Attack, Defense and Agility upgrades
Special abilities
2500+ Command blocks!
Download Links for Cake Defense 2 Map
for Minecraft 1.6.X
Credit: disco_