The Sleeping Bag mod is the kind of mod that might not seem to be much on paper, but once you use it, you'll see that it actually proves itself to be quite useful and is something that you'll want to keep coming back to over and over again because of how useful it is. The mod implements a single item that can add a whole lot of comfort and convenience to almost every single one of your adventures and it's pretty simple to use as well which is an added bonus.
The Sleeping Bag mod implements a simple sleeping bag into the game that you can keep in your inventory at all times. The sleeping bag from this mod allows you to fall asleep anywhere at any time but the thing that sets it apart from the normal sleeping function is the fact that it won't alter your spawn. Since it doesn't make any changes to your pre-existing spawn, you can use the sleeping bag to sleep anywhere you like without having to worry about disrupting the adventure that you're currently on.
Crafting the bag added by this mod is pretty simple. All you need to put the thing together are two carpet units and three wool units of any color. Once you have the ingredients, ready you can use the crafting table to combine them together and finally get your hands on the sleeping bag itself. It's important to note that you need to have ShadowMC installed in your Minecraft client because you won't be able to use this mod otherwise. As for its technical aspects, the Sleeping Bag mod doesn't seem to have any noteworthy issues so you should have a pretty smooth experience with it. The mod originally came out for Minecraft 1.9 but as of recently, it's been updated to function with Minecraft 1.10 as well.
Recipe: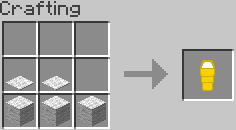 How to install Sleeping Bag Mod?
Download and install the recommended Minecraft Forge for your Minecraft version.
Download the latest mod version for your Minecraft version.
Put the .jar file into the mods folder of your Minecraft installation.
Download Links for Sleeping Bag Mod
for Minecraft 1.10 / 1.9.4
Credit: shadowfactsmc – Original Thread on CursForge