Multi-Hotbar is an excellent mod and is a testament to the fact that you don't need a feature filled mod to make the Minecraft experience more enjoyable. The mod only makes a few relatively minor changes to the layout of Minecraft's user-interface and doesn't bring an enormous array of features or functionality into the game. However, although these changes seem minor on paper, they end up having quite a lot of impact on the gameplay and make it a lot more enjoyable. Basically, if you've ever had troubles with the default Minecraft hotbar, the Multi-Hotbar is here to take all those troubles away from you.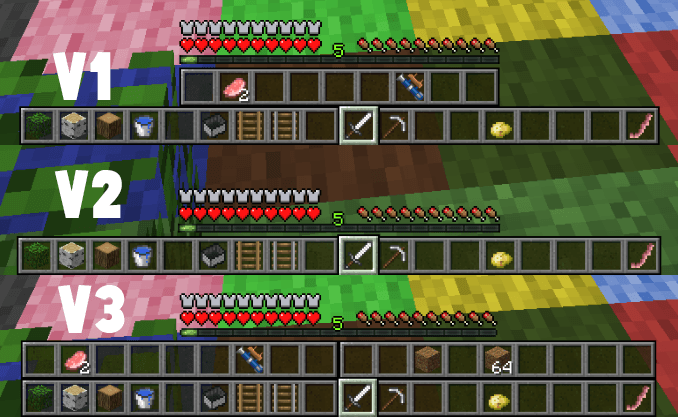 The main change that the Multi-Hotbar mod makes is that it extends the default length of the Minecraft hotbar past nine slots. The hotbar is an extremely important bar because it gives players quick access to all the tools, items and equipment they need but the problem with the vanilla Minecraft hotbar is the fact that it simply doesn't hold enough things. However, thanks to the Multi-Hotbar mod, the capacity of the hotbar is extended by a significant amount, so you'll be able to place pretty much everything you want will, therefore, be able to access it in mere seconds.
On top of extending the vanilla Minecraft hotbar, the Multi-Hotbar also brings a few convenient features that make managing it a lot easier. Through this mod, you'll be able to toggle your hotbar with the grave key, configure hotbar keybinds with ease and scroll through your bars without any trouble. The mod is client-side and can connect to vanilla servers without any difficulties, so you probably won't have any trouble getting it to function. All things considered, the Multi-Hotbar enhances the functionality of the vanilla Minecraft hotbar by a tremendous amount and makes it a lot more useful.
Multi-Hotbar Mod Features
Scroll through all hotbars
Tap a hotbar key (e.g. 1, 2, 9) multiple times to change hotbar selection
Hold ALT (configurable) and scroll to change hotbars
Hold ALT and press a hotbar key (1-4) to go to that hotbar
Toggle the hotbar with the grave (`  ) key
Compatible with InventoryTweaks' auto-refill
Client side – can connect to vanilla servers
Multi-Hotbar Mod for Minecraft 1.10.2 Changelogs
Fixed render bug
Improved item pickup reordering
Holding the modifier key and pressing a number key (1-4) moves to that hotbar
Deaths now handled on remote servers.
Item reordering handled on remote servers. BUGGY: Will fail if more than one item is picked up at once. It is recommended to enable "Relative Hotbar Pickups" in the config.
Added config option to enable relative hotbar pickups.
Fixed typo in description
Fixed selected slot changing when moving between hotbars
Fixed crash on changing config to 1 hotbar
Fixed inventory desync
CI (dev) builds now have a full version identifier
How to install Multi-Hotbar Mod?
Download Forge installer
Download Multi-Hotbar mod for your Minecraft version
Install Forge on your Minecraft
Run Minecraft, close Minecraft
Put the mod in mods folder
Run Minecraft, enjoy!
Download Links for Multi-Hotbar Mod
for Minecraft 1.11.2
for Minecraft 1.10.2
for Minecraft 1.8.9
for Minecraft 1.7.10
Credit: rolandoislas – Original Thread on CursForge