The Chisels and Bits mod is perfect for players who like creating intricate and unique designs. The best part about this mod is that you don't need to download a horde of resource packs or a ton of mods to get all the designs you want for your home or other building you're constructing. Using the chisel and bit along with a guide meant to save designs, you can carve your unique imprint onto every block you see in Minecraft if you so wish. It's a very unique take on building and block design and a very welcome one at that thanks to how seamlessly it works.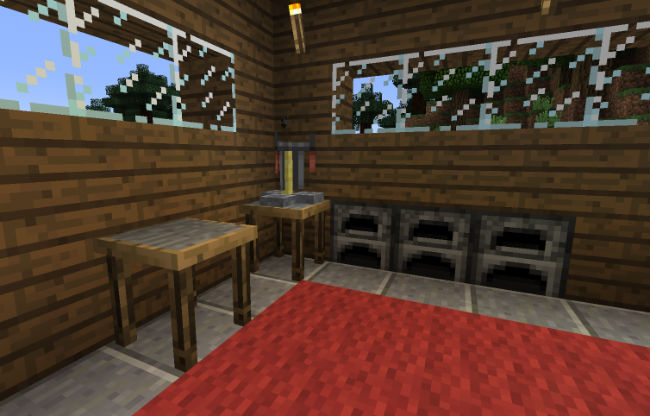 Different bits will create different visual effects when used on the face of a block, so you'll want to try them all individually and figure out which bits work best for creating the specific designs and images you want. It would be wise to carry around several different ones as well, since no single bit is going to do everything you want, unless all you want are simple designs anyone could do in a minute or two. The limits to what you can do with your chisel and bits are pretty much endless. It's possible to create dozens of unique designs for every block so you'll be busy for a long time with this mod.
The Chisels and Bits mod will let you do all kinds of things you never even realized you wanted to do in Minecraft. What's better than a wooden sign with a wall of text? Maybe a sign in the shape of an arrow which simply points in the right direction to go. What about windows – they get pretty boring all being the same size and shape. This mod will let you cut the panes into fractional sizes like halves, quarters and whatnot, so you can actually make your home look more realistic and less blocky. This mod is definitely worth checking out.
How to install Chisels Bits Mod?
Download and install the recommended Minecraft Forge for your Minecraft version.
Download the latest mod version for your Minecraft version.
Put the .jar file into the mods folder of your Minecraft installation.