Dark Utilities is a very useful mod that, as the name suggests, implements a whole lot of useful utilities into Minecraft that will make your gameplay experience significantly more enjoyable due to all the functionality that they have to offer. The great thing about this mod is that it fully supports multiplayer, so it will run seamlessly on almost all multiplayer servers and even local area networks as long as there aren't any specific restrictions against it. So basically, if you want to add a bunch of highly convenient tools and utilities into your Minecraft client then this mod should be right up your alley.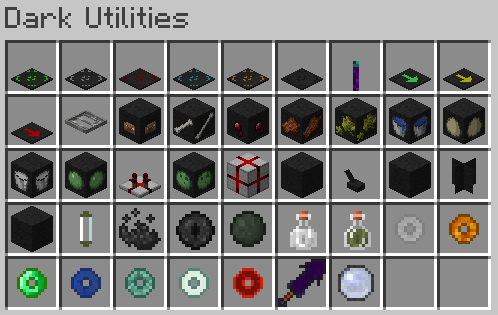 Onto the utilities themselves, Dark Utilities actually has different categories of said utilities. First and foremost are the special in-game blocks that have various kinds of special characteristics. For instance, there are the sneaky blocks that can essentially camouflage themselves as some other block and this block can be used in multiple different ways like creating hidden levers, hiding things in plain sight and more. There's also the Feeder block that can automate the entire process of mob breeding and this can save quite a lot of time for the players.
Aside from the blocks, Dark Utilities also brings different kinds of items to the table. There's the mysterious potion that can be used to cure those who've been infected by the zombie virus, but if the user isn't infected by the virus, then they provide a useful buff for a couple of seconds. Another noteworthy item is the Prospector Ring that directly increases the efficiently of any item you're holding by an amount of one which might not sound like a lot but is actually a pretty useful stat increase. All things considered, Dark Utilities is a very useful mod that you shouldn't miss out on.
How to install Dark Utilities Mod?
Download and install the recommended Minecraft Forge for your Minecraft version.
Download the latest mod version for your Minecraft version.
Put the .jar file into the mods folder of your Minecraft installation.