It seems there are at least a dozen different websites offering radio services for people who want to listen to music without getting regularly bombarded by ads. But what happens while you're playing Minecraft? You could just use those same services and put them in the background while you play – or you could get Dragon's Radio Mod and play your favorite songs right through Minecraft instead. Unfortunately, you won't be picking up your favorite local stations on this particular radio. But it's not all pre-recorded stuff either. The mod actually taps into live feeds from the Internet to bring you music.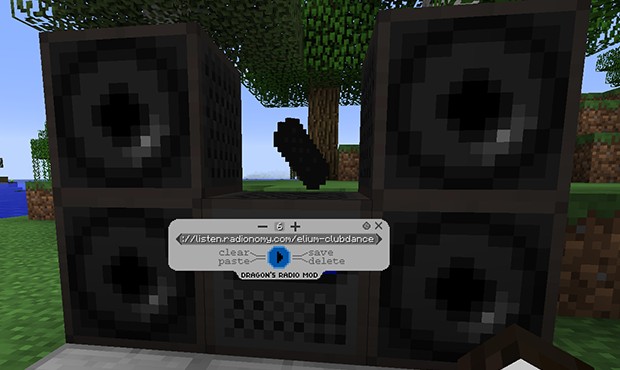 This means a couple of things. First, there are nine different buttons, each with a corresponding Internet radio link. You can change stations whenever you like by using these. The best part is that you don't need to sign up for accounts for the different radio websites which Dragon's Radio Mod can hone in on and broadcast for you in game. Installing the mod is easy enough, and all you need to do besides that is tell it the radio stream links to assign to each of the radio's individual buttons. No other Minecraft radio mod gives you this much control over the tunes you will hear in-game.
Additionally, you can attach speaker blocks to the radio itself, so the sound can be heard over an increased range. Speakers in Dragon's Radio Mod don't actually make the playback sound any louder, rather they just allow you to hear the radio over an increased distance, giving you the chance to go work or something rather than stand still while the radio plays. Every radio in this mod can have up to 10 speakers attached, allowing you to create a nice circle of increased sound range around the radios. If you want more music in Minecraft, you've found the right mod for it.
Dragon's Radio Mod for Minecraft 1.7.10 Changelogs
Added Speakers that extend radio range.
Added Dummy Speaker for decoration.
Added remote to bind speaker to radio.
Changed Textures for blocks.
Download Links for Dragon's Radio Mod
for Minecraft 1.7.10 – Minecraft Forge API Required
Credit: DragonbornSR