M-Ore is a very useful mod that players who've been playing Minecraft for a while will absolutely love. Minecraft is known to have quite a lot of ores, and each one of its ores has its own individual use. The ores can be utilized creatively for a variety of different tasks, and so they make the game more enjoyable overall but over time, the ores tend to become repetitive so you kind of want something more, and this is exactly why the M-Ore Mod has been designed. As the name suggests, it implements more ores into the game and these ores can then be used for multitudes of different tasks.
Players can use the ores from the M-Ore Mod to do things like create tools to make their gameplay more easier and convenient, craft armor that can protect them from even the most fearsome of foes, create lots of great looking blocks that can be used as decorations, put together explosive contraptions that have a pretty massive area of effect and some ores can even be used to create special processing machines. Zinc, Uranium, Titanium, Platinum, Sapphire, Ruby, Bauxite, Electrum, Silver, Cassiterite, Cuprite, and Copper are all the ores that this mod implements.
Mod Showcase:
Although all the ores in the M-Ore Mod are very useful, the most fun ore is perhaps the Uranium ore because it can be used to create some really heavy TNT that has a massive explosion radius. There are lots of different things that can be crafted with the ores from this mod, and fortunately, the developer has listed all of them so you won't need to manually figure out how to craft the things that this mod adds. Overall, the M-Ore Mod is very useful and adds a whole lot of new ways for players to enjoy Minecraft.
List of ores:
Zinc
Uranium
Titanium
Platinum Sapphire
Ruby
Bauxite
Electrum
Silver
Cassiterite
Cuprite
Copper
M-Ore Mod Recipes
Crafting Table:
Inventor's Table: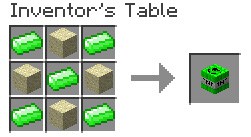 How to install M-Ore Mod?
Download Forge installer, open it and install
Open the Minecraft launcher and select Forge in the profile list
Click Edit Profile and then Open Game Dir, this opens the game folder
Create a new folder called mods
Download the mod and put it into the mods folder
Download Links for M-Ore Mod
for Minecraft 1.9
for Minecraft 1.8
for Minecraft 1.7.10
Credit: Kuuu – Original Thread on Minecraft Forum