The Palaria mod has been designed to take your Minecraft experience to the next level by implementing multitudes of great new features that'll give players a refreshing experience and give them something extra to do alongside the usual Minecraft stuff. The mod is definitely one of the oldest ones out there nowadays as it's been out for over three years and over its lifespan it has seen countless amounts of patches that have kept it up to date and according to modern day standards. As of right now the mod is on version 3.3.1 which shows that it's come quite far from what it used to be at release.
As mentioned before, the Palaria mod adds a ton of new things to the game for example great new biomes, special blocks based off different kinds of materials, new tools to use, strong weapons to beat your foes with and even a whole bunch of new mobs that you'll get to slay on your Minecraft travels. The mod implements some really unique weapons as well that are built from the special materials that it adds. These weapons have distinct characteristics and various special effects that separate them from the usual weapons.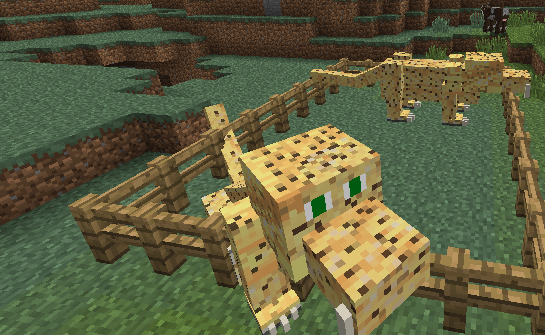 Mod Showcase:
Other than all the features, the Palaria mod adds a bit more depth to the crafting table as well. If you have this mod applied, then you'll be able to use the crafting table to do things like remove the blade from a sword from its hilt or remove the head of a shovel from the rest of its body. These features are really convenient as they allow players to use these items elsewhere without having to craft them all over again. All said and done; Palaria is a mod that'll surely elevate your Minecraft experience to a new level thanks to all the new features that it brings into the mix.
Palaria Mod for Minecraft 1.8.9 Changelogs
Added torch reciper with nelium.
Fixed redwood plank being destroyed with a single punch.
Blood Forest biome temporarily uses Oakwood instead of Redwood.
Created a method to allow mobs to pierce armor, for balance reasons. With this, armor will no longer block 100% of the damage from the palaria mobs. This balances out custom armors.
Reduced Damage from some mobs to account for the armor piercing.
Created Version Checker to notify people when they are running an older version of the mod.
Updated the mod for Minecraft 1.8.9
How to install Palaria Mod?
Download and install the recommended Minecraft Forge for your Minecraft version.
Download the latest mod version for your Minecraft version.
Put the .jar file into the mods folder of your Minecraft installation.
Download Links for Palaria Mod
for Minecraft 1.8.9
Credit: Coolgatty – Original Thread on Minecraft Forum