Totemic is a very unique mod that's based around carving various different kinds of Totems. If you don't know what totems are then, they're basically sacred objects crafted from wood that serves as emblems and represents a certain group of people. It was believed that totems held great power and were capable of making many supernatural events happen, and this mod is based mainly around this concept. It adds a very in-depth totem system that adds an incredible amount of depth to the game and makes it much more immersive. The mod has been out for quite some time and as of recently, it's been updated to work with Minecraft 1.10.2 which is of course great news.
Before you're actually able to use the features of the Totemic mod, you'll first have to craft a Totempedia through the recipe given in the mod. Once you have this item at your disposal, you'll be able to learn all the mod's features and will be able to utilize them however you want to. Crafting a totem is pretty simple since all you have to do is carve the base through the Knife included in the mod and then place the appropriate block on top of this base to form the entire body of your totem.
Totemic features multiple different totems based off of animals and each one of these has various unique special effects. The Horse totem gives nearby players a significant speed boost, the Bat totem gives players gliding powers, the Blaze totem gives fire resistance and alongside these, there are a bunch of other totems as well with their own special effects and bonuses. Other than totems, the Totemic mod also features a blow gun which is a ranged weapon that shoots many types of darts such as poison darts.
Totemic Mod Update Logs
Added Bald Eagle, a passive mob. Can be tamed with fish and bred with salmon.
Added a new Music Instrument: Eagle-Bone Whistle.
Added new Ceremonies:

Eagle Dance: Transforms Parrots into Bald Eagles.
Sun Dance: Heals and provides an absorption effect like Golden Apples.

Changed the selecting instruments of Zaphkiel Waltz (Rattle, Drum) and Chimes of Death (Wind Chime, Eagle-Bone Whistle), so they can no longer be selected when you haven't progressed far enough to actually complete them.
Changed Flute sounds.
Totempedia entries are now sorted in order of progression rather than alphabetically.
Increased the duration of the Speed effect from the War Dance ceremony to match the Strength effect.
Completing a Ceremony will now give recipes and advancements to all nearby players rather than just the one who started the Ceremony.
Recipe: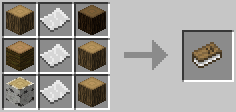 How to install Totemic Mod?
First, install Minecraft Forge.
Download Totemic and put the file into your "mods" folder.
Run your game or server!