Wings is a Minecraft mod that revolves around flight and provides players with an array of ways to quickly soar through the skies and get to their destination. Flight-based mods for Minecraft are available in fairly abundant quantities but most of these mods are usually quite complex and require a ton of setup before players are able to utilize them. Although Wings isn't necessarily all that simple, it's still significantly easier to get the hang of than most run-of-the-mill flight-based mods and this is why we highly recommend giving it a shot if you want to soar the skies of Minecraft.
The Wings mod adds 10 different pairs of wings that, when equipped, give players the ability to quickly travel through the skies. Each individual wing has a distinct and creative design and it's important to remember that they all have their own unique recipes as well so, if you want to craft a certain wing, it's best to look up its recipe beforehand so you can collect all the necessary items. One crucial thing that you'll need to keep in mind is the fact that these wings can actually be damaged and you'll have to repair them if their durability goes too low in order to avoid any trouble.
The actual process of crafting the wings in the Wings mod is fairly straightforward because the recipes don't really have any materials that would take a long time to acquire. Once you've finally crafted and equipped your wings, all you have to do is press the flight key which, by default, is R and you'll be able to take to the skies. All said and done, Wings is one of the most straightforward flight-based mods available so it's definitely worth looking into if you're looking for something that isn't too complex.
Video
&

Screenshots
Features
Fairy Wings: Fashioned using the delicate petals of an Oxeye Daisy.
Monarch Butterfly Wings: Infused with vibrant hues of Orange Dye, reminiscent of the graceful Monarch Butterfly.
Slime Wings: Created from the gelatinous essence of a Slimeball.
Blue Butterfly Wings: Evoking the serene beauty of a Blue Butterfly, these wings bear the essence of Blue Dye.
Fire Wings: Embodying the fierce intensity of flames, these wings are crafted with the power of Blaze Powder.
Angel Wings: Fashioned from the ethereal essence of a Feather, these wings emanate divine grace.
Bat Wings: Infused with the mysterious and nocturnal energy of Bat Blood, obtained by capturing its essence in an empty bottle.
Evil Wings: Formed from the haunting remnants of Bone, these wings exude an aura of darkness.
Dragon Wings: Reflecting the ancient power of dragons, these wings are crafted from the sturdy scales of Leather.
Parrot Wings: Vibrant and exotic, these wings embody the colors of Red Dye, inspired by the charming Parrot.
In-Game Preview:
Wings are everlasting (until death) and are only cured by drinking bottled bat blood, which is obtained by using empty bottles on bats.
Crafting Recipes
The wings are obtained by mixing varied ingredients with Slow Falling potions.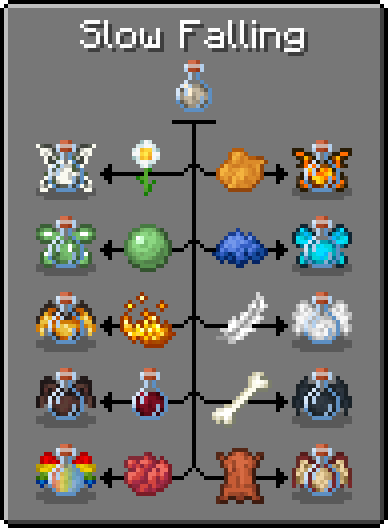 1.12.2 releases

Resources

A few new resources can be found in the game thanks to Wings Mod.

Fairy Dust

An essential ingredient to the recipes is Fairy Dust, a resource obtained from Fairy Dust Ore, which has a similar rarity to iron ore.
This resource is also usable for wing repair in an anvil.

Amethyst

The final new resource is Amethyst, mined from Amethyst Ore, which has a similar rarity to diamond ore.

Bat Blood

An additional resource used in crafting is Bat Blood, which is obtained by using an empty bottle on a bat.

Crafting Recipes
Wings Usage
To take flight with these majestic wings, simply equip a pair and press the designated Fly Key (default bound to 'R').
As you gaze upon the world below, your movements will be guided by the direction of your sight, providing an intuitive and immersive flight experience.
To gracefully land or conclude your soaring adventure, either touch the ground or press the flight key once more.
The integration of Baubles ensures seamless compatibility between wings and other equipped armor pieces, allowing for stylish and practical combinations.