Clans is a Minecraft mod that we highly recommend checking out because it implements a full-fledged clan feature into the game. If you've played MMOs before then you know that the aspect of clans can actually add a great deal of depth to the overall gameplay experience because it allows players to form alliances amongst themselves and, through these alliances, they can share resources, land and help each other out whenever necessary. Having clans in Minecraft is something that's sure to enhance the gameplay experience by a tremendous amount and, thanks to the Clans mod, you'll be able to implement this feature into your Minecraft experience.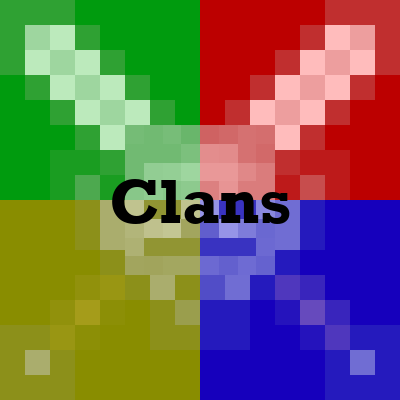 Features and Functionality
The Clans mod is a server sided mod so you won't have to install it on your client but it goes without saying that it needs to be installed on the server for it to be operational. Clans, according to this mod, are groups of players who share land and all the resources on that particular piece of land. If a certain clan owns a territory, only they can interact with the entities on it. The Clans mod also implements an expertly crafted raiding system that'll give different clans the ability to go to war with one another and raid the territories of different clans. Raids are intense and highly exhilarating and are definitely one of the best features that this mod has to offer.
Compatibility and Technical Aspects
Clans is a pretty groundbreaking mod so it does have a few minor issues that surface from time to time but, thankfully, there's an issue tracker where users can highlight issues that the creator can then look into and potentially implement a fix for.
Conclusion
Overall, Clans is a spectacular mod that's going to bring your Minecraft experience to the next level.
How to install Clans Mod?
Download and install the recommended Minecraft Forge for your Minecraft version.
Download the latest mod version for your Minecraft version.
Put the .jar file into the mods folder of your Minecraft installation.