Damaged Items is an absolutely incredibly resource pack that does something we've never really seen before in resource packs. Before we go into details regarding this pack, we want to point out that it only changes the item textures of the game so if you're looking for a resource pack that'll completely overhaul and redesign your game world, this isn't the place to be looking. However, on the other hand, if you want to make the in-game items look, and feel, more realistic, the Damaged Items resource pack is the perfect choice for your particular needs.
It's important to keep in mind that the Damaged Items pack doesn't actually change the vanilla textures but, instead, it ends up adding new ones. The pack basically makes it so that players can actually see the durability of their items go down. Normally, the only indicator of an item's wavering durability in Minecraft is a status bar that highlights its condition but, thanks to this mod, you'll actually be able to see your item's image degrade as its durability degrades and this is a very nice touch that makes the game feel more realistic and lively.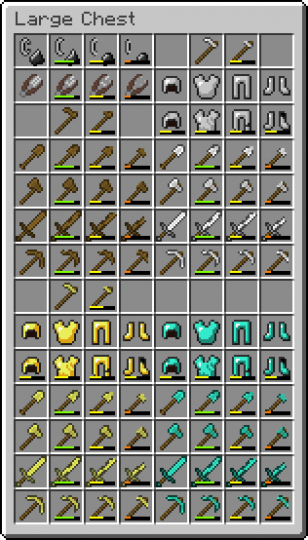 The great thing about packs like Damaged Items is the fact that, since they only focus on one particular aspect of the visuals, players can use them alongside another resource pack for a truly captivating visual experience. Also, since the pack only focuses on changing the items of the game, it won't hinder your game's performance at all, and you'll be able to use it without any trouble, even on low-end PCs.
How to install Damaged Items Resource Pack?
Start Minecraft.
Click "Options" in the start menu.
Click "resource packs" in the options menu.
In the resource packs menu, click "Open resource pack folder".
Put the .zip file you downloaded in the resource pack folder.
Download Link for Damaged Items Resource Pack
for Minecraft 1.11.X
Faithful 32×32 Addon:
Credit: Raptor__