If you've ever played games like World of Warcraft before, then you know what a pain it can be to die. You lose all your gear and even some hard-won experience, at least until you can get back to your body to reclaim the goods. But when you die in Minecraft, everything you're carrying just kind of explodes out of your body, flying everywhere and either getting grabbed up by other players, disappearing before you can return to where you died or getting destroyed by environmental hazards, like lava. DrCyano's Lootable Bodies mod makes Minecraft a little more realistic by giving you a dead body to come back to and loot.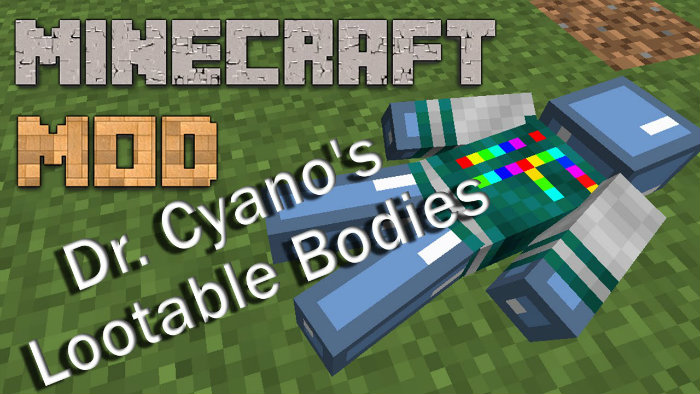 The mod comes with a configurable file that can change parameters, like the amount of damage your items take upon your death, or how well your body holds up against the elements while you're trying to find it. By default, your dead body is immune to fire, enemy attacks and long falls, which means it will definitely be wherever you died, if you can manage to get back there. This stops your gear from despawning or getting destroyed, but there's nothing to stop other players from looting your corpse after killing you. Indeed, this mod adds a nice element to PVP gameplay.
DrCyano's Lootable Bodies mod actually pulls in all the items in your vicinity when you die, as well. So, for example, if you were chopping grass when a creeper snuck up behind you, you would find any grass seeds that happened to be close to your body when you died, in addition to whatever you were carrying, all on the lootable corpse that gets left after your death. With all the adjustments and changes you can make to settings, this mod gives you a lot of control over the bodies as well.
DrCyano's Lootable Bodies Mod for Minecraft 1.8 Changelogs
Added config option to let you disable adding bones and rotten flesh to your corpse.
Fixed an item duplication bug.
Bodies don't play suffocation sound underwater.
How to install DrCyano's Lootable Bodies Mod?
Install the latest version of Forge mod loader
Download CyanosLootableBodies-X.X.X.jar
Now, just put CyanosLootableBodies-X.X.X.jar in %appdata%/.minecraft/mods (if this folder does not exist, run the Minecraft with Forge once)!
Download Links for DrCyano's Lootable Bodies Mod
for Minecraft 1.8.9
for Minecraft 1.8
for Minecraft 1.7.10
Credit: DrCyano – Original Thread on Minecraft Forum