The Extra Food mod is the perfect addition to Minecraft for those who enjoy the game because of how open-ended it is. For added creativity and more options (who doesn't love more options?) when it comes to what you eat, there are few mods better than this one. With more than 20 new and unique food items to choose from on top of all the food which was already implemented in vanilla Minecraft, your character will never go hungry again – or be bored with the food they have to eat, for that matter. With so many different and new food types, there are some which are clearly better than others.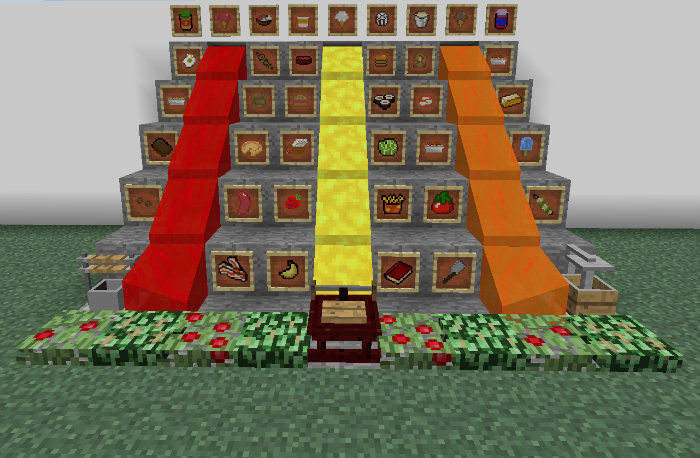 The first and most important step is creating a cookbook using a book, a piece of leather and one of a number of food items, such as an apple, raw beef, raw pork or fish. Once you have your list of recipes for all the other new items added by this mod, you'll be ready to start cooking up something delicious. Some of the new food items, like tomatoes, aren't crafted at all – you actually get a number of new crops to farm, so the Extra Food mod is about more than just pumping out recipes at a crafting table.
Also, some of the new foods aren't crafting properly yet, so it's safe to say the Extra Food mod still needs some work. However, with updates coming regularly and more food items being added by the mod's two authors, it's also safe to say there will soon be a fully stable version of this mod. For now, just make sure you have MCForge installed, since this mod was designed to work with that mod loader. That means Extra Food will probably work fine with any other Forge mods you have installed too, so you can get a real smorgasbord going if you have multiple food mods.
Extra Food Mod for Minecraft 1.7.10 Changelogs
Fixes World crashing bug if one places Block of pure white in the end.
Some bugs fixed!
How to install Extra Food Mod?
Download the Minecraft Forge API.
Download the mod.
Put the ExtraFood-1.7.10-0.6.56.jar in %appdata%/.minecraft/mods.
Download Links for Extra Food Mod
for Minecraft 1.7.10
Credit: mincrmatt12 – Original Thread on Curse