FandomCraft 2 is an absolutely phenomenal mod that adds a ton of content to Minecraft for players to enjoy. The best part about this mod is the fact that it has content that's been inspired by various different kinds of games and this is why you're bound to find something that you like while using it. There are thousands of new items to utilize, multitudes of blocks and creative new mobs for players to fight as they travel through the world of Minecraft. The mod will definitely take some getting used to because of all the content it adds to the game, but it's definitely worth it because it adds hours upon hours of content for players to enjoy.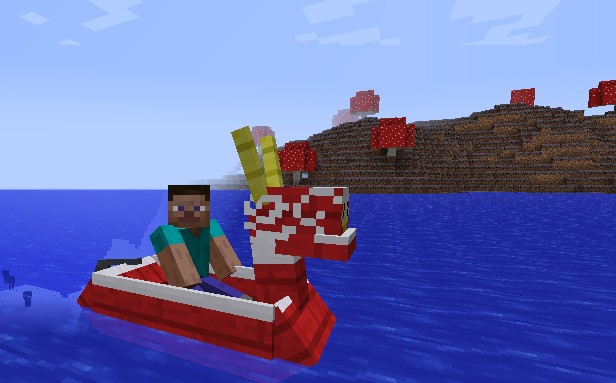 Going into a bit more detail, the FandomCraft 2 mod has content from Pokemon, Star Wars, Super Mario, Kingdom hearts, Metroid, Fable and all these games are just the tip of the iceberg because there are lots more as well. Through this mod, you'll get to use tons of iconic items from these game franchises within Minecraft like the Sword of Aeons, the Ultima Keyblade, the Master Sword and lots of other things. The mod also has a lot of great new locations from the games that it's based on like Gannon's Tower from Zelda.
Alongside all other features, FandomCraft 2 will also let you relive all the boss fights that you've probably experienced while playing the games that the mod's been inspired by. There are multitudes of creatively designed bosses to slay like Gannondorf, Gohma, Chaos and even Argorok. However, alongside all the content, perhaps the most impressive thing about this mod is the fact that it's only 7MB in size which is absolutely ridiculous considering the amount of features and content that it brings to the table so, all things considered, FandomCraft 2 is an incredibly well-designed mod that'll take your Minecraft experience to the next level.
FandomCraft 2 Mod Changelogs
Fixed not being able to craft tools.
Fixed Blue Pots not dropping hearts.
Fixed bosses not dropping their signature items.
Fixed chests being empty. (Let me know if I missed any)
Argorok drops a Dragon Egg, allowing you to get a second Orichulum+
Dungeons 'probably' fixed.
How to install FandomCraft 2 Mod?
Download the latest version of the Minecraft Forge installer.
Run the installer and select client/server.
Start Minecraft using the Forge profile.
Exit the game.
Download the <modname> below and place it in the mods folder.
Re-launch Minecraft and have fun!
Download Link for FandomCraft 2 Mod
for Minecraft 1.7.10 / 1.7.2
Credit: Ms_Raven – Original Thread on Minecraft Forum