Minecraft is a game which already looks rather flat and cartoony by default. That's why add-ons like the Mad Pixels Cartoony Resource Pack tend to get a bad rap. Resource packs are supposed to make Minecraft look different, not give players more of the same thing they're already used to seeing. While the pack does feature simplistic textures and several vanilla textures pulled straight from the Minecraft files, the textures which have been changed tend to look pretty good. Besides that, the low resolution keeps this pack manageable and allows for it to be used by all kinds of players.
Though Mad Pixels Cartoony Resource Pack is new, it still works with Minecraft versions 1.7.x along with the most recent release of the game. The pack has actually been around for several months already, and this gives it that added compatibility. It also means the pack has already been finished, and there aren't any other updates or new textures coming, at least until Minecraft 1.9 finally launches. Even when that happens there's no guarantee this pack will get another update though. So it looks good, it's easy to use and it's a totally finished pack – these are all good things.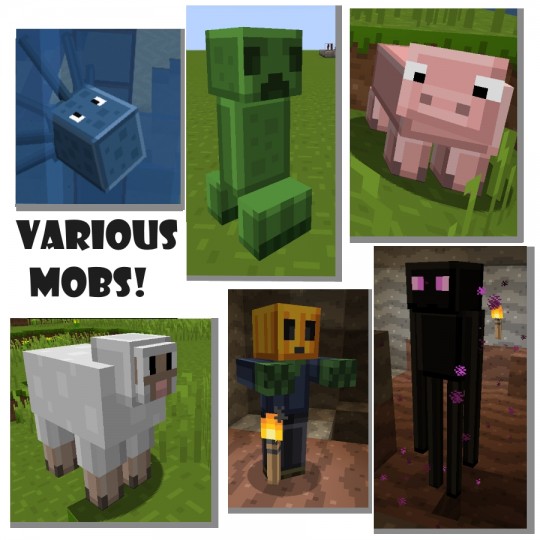 The thorough nature of this resource pack is another point in its favor. Though some of the mob textures and a few pieces of the environment are right out of vanilla Minecraft, the vast majority of textures in the game get changed by this resource pack. It makes Minecraft look different, but not so different that you can't still recognize all of the blocks and items you need to play the game. It's a decent pack overall and probably worth a look if you just want to change the appearance of your world.
Mad Pixels Cartoony Resource Pack for Minecraft 1.10 Changelogs
Sunflower front
Sunflower bottom
Sunflower top
Sunflower back
Allium flower
Rose
Red tulip
Pink tulip
Orange tulip
White tulip
Trip wire
Oxeye daisy
Dandelion
Syringa
Houstonia
Orchid
Double rose
Paeonia
New flint and steel
New shears
Double paeonia
Mushroom inside
Big brown mushroom
New gravel!
How to install Mad Pixels Cartoony Resource Pack?
Start Minecraft.
Click "Options" in the start menu.
Click "resource packs" in the options menu.
In the resource packs menu, click "Open resource pack folder".
Put the .zip file you downloaded in the resource pack folder.
Download Links for Mad Pixels Cartoony Resource Pack
for Minecraft 1.8.X / 1.9.X / 1.10
Credit: VeryMadCrafter