The Plants mod for Minecraft does basically exactly what the name implies; it adds a ton of different plants into the game. Minecraft has always been renowned as a great open world game with lots to explore but, when it comes to the variety of the game's vegetation, it can definitely feel slightly lackluster at times since you're usually seeing the same plant/crop over and over again throughout the game world. Fortunately, though, this shouldn't be an issue any longer because the Plants mod does an excellent job of implementing tons of plants into the game for players to see, and even utilize in various cases.
The most impressive thing about the Plants mod is definitely its variety. The mod's goal is to eventually add every single real world plant into Minecraft and, while this is certainly a daunting task, it's definitely a very real possibility given how frequently the mod receives updates. As of right now, the Plants mod has over 120 different plants to offer and, as mentioned before, it sees updates on a regular basis, so it's quite likely that you'll see more new plants in a matter of days.
Of course, it goes without saying that the plants featured in the Plants mod are there for more than their visual aspect. You'll actually be able to utilize a lot of these plants in different kinds of recipes in order to craft many different things as you journey through the world of Minecraft. Some of the plants can actually be used to make rather powerful concoctions, but it is worth pointing out that these plants are quite rare and you'll probably need to do a bit of exploring before you can get your hands on them. Overall, Plants is a great mod that adds loads of plants into the world of Minecraft.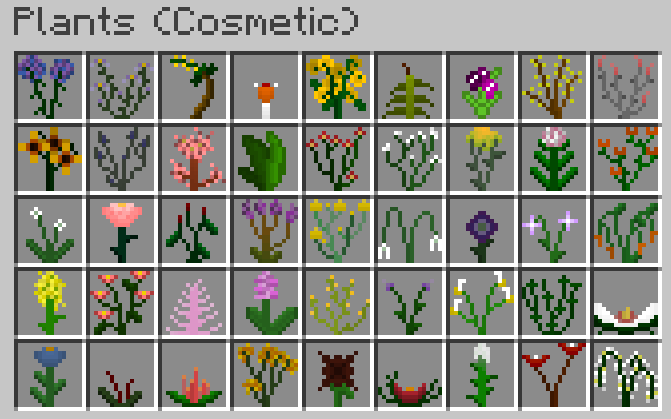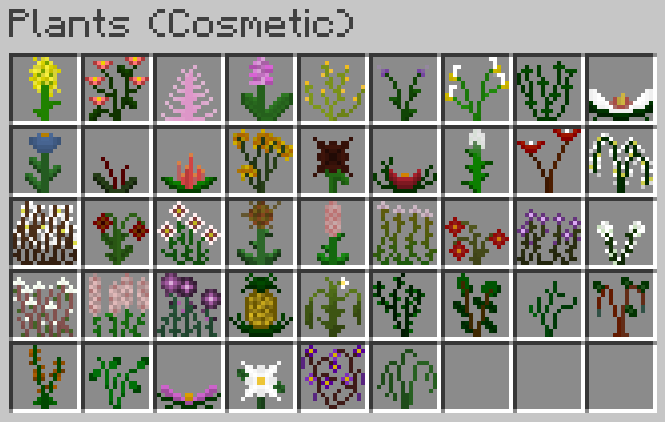 Plants Mod Changelogs
Rewrote the entire mod, now it isn't horrible to look at
Added in all content from previous versions.
Added Excalibur back (now with rainbows!)
More config options have been added.
Fixed a crash with the latest Botania Mod and the Excalibur.
Fixes some issues with plants_blocks.cfg, more states will now use their proper names.
How to install Plants Mod?
Install Minecraft Forge.
Download and install Placebo Mod (Required Library).
Put the mod's .jar file you downloaded into mods directory.
Run Minecraft with Forge profile.