The Retro NES resource pack is an epic pack that'll give you a very refreshing blast from the past. The feeling of nostalgia that you'll get upon using this pack will be astounding if you were around for the era of the NES and have played it at some point in time. The pack's currently being developed by Knightworm, but he wasn't really the person who originally conceptualized this pack. However, since the original creator has gone slightly inactive, Knightworm has been given the green light to continue working on the pack, and he's done a pretty good job of it up until now.
The most impressive thing about the Retro NES is without the fact that it's a very complete resource pack. It completely changes the game's default look but alongside this, it also gives its sound effects and music a massive overhaul. Every single vanilla in-game sound has been replaced by an NES variant to provide players with a more immersive and captivating experience. Onto the actual textures, Retro NES intentionally utilizes a rather limited color palette to truly deliver the feel of the original NES games. Intentionally limiting the color palette is not really the most optimal route to go when creating a resource pack but nonetheless it works out well for this one mainly due to the sense of nostalgia that arises due to this.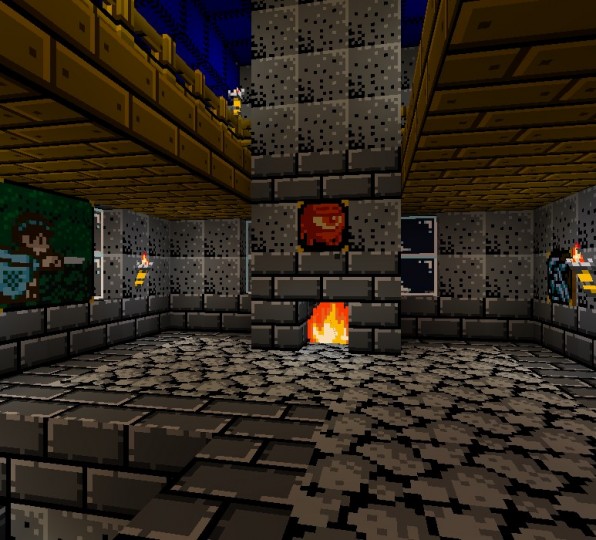 It's no surprise that the Retro NES utilizes a resolution of x16 given how hard it tries to keep the original NES feeling intact. The textures might not be as sharp, but the good thing about this relatively low resolution is the fact that most players will be able to run it even on low-end PCs without having to worry about any kinds of frame-rate problems.
Retro NES Resource Pack Update Logs
for Minecraft 1.13.1
Some 3D models in early stages.
Creating a list of some alternate block texture ideas.
Added dead coral and dead coral fans that were introduced in 1.13.1.
How to install Retro NES Resource Pack?
Download & install Optifine HD Mod.
Start Minecraft.
Click "Options" in the start menu.
Click "resource packs" in the options menu.
In the resource packs menu, click "Open resource pack folder".
Put the .zip file you downloaded in the resource pack folder.