Unnatural State is definitely the perfect resource pack for players who want to throw the traditional look of Minecraft completely out the window and replace it something that's completely unique and hasn't been seen in any prior resource pack. As you could tell from its name, the Unnatural State pack revamps all the textures and gives them a design that looks slightly unnatural for them. Due to the rather strange art style of the pack, you'd think that the textures would lack synergy with one another but, surprisingly enough, this isn't actually the case because the textures work quite well with one another thereby leading to an engaging visual experience.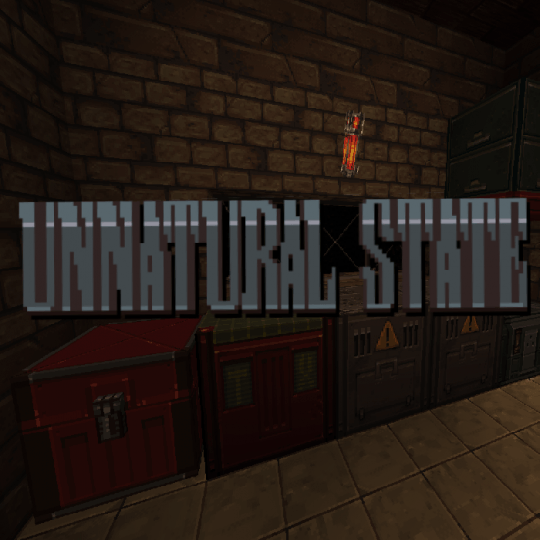 The first characteristic of the Unnatural State resource pack that you'll notice as soon as you get into the game is that the color palette is quite dark. Almost all Minecraft packs use a bright and vibrant color scheme to make the textures pop out, but this pack seems to go in the opposite direction in order to pull off its distinct art style. One intriguing thing about the Unnatural State pack is that it gives Minecraft a very futuristic look with its unique textures and this is something that we don't usually get in traditional packs.
Unnatural State just came out less than a week ago but it's already drawn quite a lot of attention and critical acclaim, and all this is a testament to its quality. The pack's resolution is x64, so its textures are quite sharp and detailed. It's important to keep in mind that this resource pack has been made for Minecraft 1.10, so you'll need to upgrade in order to use it if you're on an older version of Minecraft.
Unnatural State Resource Pack Changelogs
Minecraft 1.11
Added New birch planks
Added Birch door
Added Andesite
Added Temporary smooth andesite
Added Granite
Added Diorite
Added Smooth Diorite
Added Gravel
Added Obsidian
Added Carved sandstone
Added Fern
Added Double fern
Minecraft 1.10.2
Added Purpur Pillar
Added Purpur Block
Added Bunch of flowers
Added Bunch of Container GUI (inventory, crafting table etc)
Added Stained Glass
Added Acacia door
Added Vine
Added Rose bush
How to install Unnatural State Resource Pack?
Start Minecraft.
Click "Options" in the start menu.
Click "resource packs" in the options menu.
In the resource packs menu, click "Open resource pack folder".
Put the .zip file you downloaded in the resource pack folder.
Download Link for Unnatural State Resource Pack
for Minecraft 1.10.X / 1.11.X
Credit: FishyMint