Wearable Backpacks is a mod that aims to raise the bar for all backpack based mods to come. There are multitudes of mods that try to get rid of the storage related problems that players face in Minecraft by giving them simple and straightforward backpacks in which they can store their items. However, as useful as these mods are at times, most of them tend to lack any features other than the storage, and this is why they feel rather dull to use. Fortunately, the Wearable Backpacks mod remedies this issue by implementing a variety of intriguing features into the mix. The mod not only adds a ton of convenience to Minecraft but, on top of this, it's quite fun to use as well, so you likely won't want to stop using it once you've seen all that it has to offer.
One of the most fascinating things about the Wearable Backpacks mod is how it actually deals with storage. In most other backpack mods, the items are stored in the backpacks themselves but, in this particular mod, the items that you store in your backpack will technically be stored on your character and this method of storage prevents the mod's features from being abused. The backpacks in this mod need to be equipped into your armor slot, so you'll actually have to choose between storage and durability and this particular choice makes the mod's gameplay quite dynamic. In case you ever end up dying, the backpack will drop at the spot where you died, so you'll be able to go and collect all your items with ease later on.
For players who like to customize, the backpacks featured in the Wearable Backpacks back be dyed in a variety of different ways. Instead of dyeing the backpacks with a simple base color, you'll actually be able to combine a variety of different colors an use them all on your backpack to give it a truly creative look. Finally, perhaps the most innovative feature that this mod brings to the table is the fact that nearby companions can actually open your backpack in order to retrieve any items that they need. This is an extraordinary feature that truly sets this mod apart from all others that are similar to it. Overall, Wearable Backpacks is an incredibly well-designed storage focused mod that you'll certainly enjoy using because of the insane array of features that it has to offer.
Crafting Recipe:
7x Leather
1x Gold Ingot
1x Wool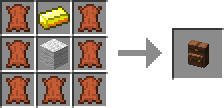 Wearable Backpacks Mod Update Logs
Made an entire GUI framework.
Rewrote the config GUI in said framework.
Just so you can configure the new config settings nicely!

Chance of default mobs spawning with backpacks can be adjusted.
New entries can be added with custom chance, loot table and color.
Custom mobs, including from other mods, can be configured to wear backpacks.

Probably fixed an issue where config changes ingame didn't get saved.
Hopefully didn't introduce any new issues.
Fix mobs from mob spawners spawning with backpacks.

Add it a config setting spawnFromSpawners instead!

Improved how backpacks render in item frames.
How to install Wearable Backpacks Mod?
Download Minecraft Forge installer, open it and install
Open the Minecraft launcher and select Forge in the profile list
Click Edit Profile and then Open Game Dir, this opens the game folder
Create a new folder called mods
Download the mod and put it into the mods folder