The name of the Coloured Torches V2 mod on its own is enough to explain pretty much exactly what this mod has been designed to do. Torches are one of the most important items in Minecraft due to a variety of reasons, the primary reasons being that they light up the path for a player and allow them to mark specific places on the map. However, in spite of how useful torches are, it's rather surprising that vanilla Minecraft doesn't really try to add any major functionality to them, but fortunately, the Coloured Torches V2 mod makes a few cosmetic changes to these items that make them a tad bit more versatile.
The Coloured Torches V2 adds 16 torches into the game, each with a different colour. Each torch is the exact same in terms of functionality, but they look significantly different from one another since their flames are of different colors. The different colours allow you to use different torches to mark specific areas in the game world so you can return to them later on. The torches also mark the location with their respective colour in the mini-map as well which makes navigating back to them an absolute breeze.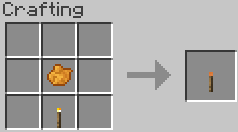 Crafting the torches of the Coloured Torches V2 is as easy as it gets. All you have to do is take a traditional torch and combine it with a dye on the crafting table and voilà, you'll have a coloured torch. One really convenient feature of these torches is that you can actually change their colour by right-clicking them while holding a dye of any colour in your hand. The mod has been coded to function specifically on Minecraft 1.7.10 which is why you'll also need to be on the same version of the game if you want to take advantage of all of its benefits.
How to install Coloured Torches V2 Mod?
Make sure Minecraft Forge is installed
Put the jar in your mods folder
Run the game!
Download Link for Coloured Torches V2 Mod
for Minecraft 1.7.10
Credit: TimtheBrick – Original Thread on CursForge