HammerX is a Minecraft mod that, as you can tell by the name, revolves around hammers and is actually the successor to the HammerZ mod that came out a few years back. The HammerZ mod was quite a hit amongst players because it added various useful hammers to the game but, unfortunately, it stopped receiving updates after a while and became dormant. Thankfully, though, HammerX manages to continue the legacy of the original mod and is based on the same concept as well so, if you enjoyed the original HammerZ, there's no doubting the fact that you'll like what HammerX has to offer as well.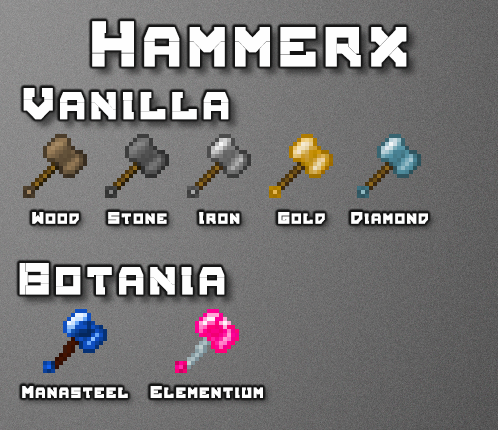 Features and Functionality
The HammerX mod features a bunch of dynamic hammers that can be crafted with a variety of different materials. The hammers featured in this mod are extremely useful and they can be used for a variety of different tasks. The default hammers are available in wood, stone, iron, gold and diamond variants but, alongside these, there are also hammers that can be made from other materials implemented by popular Minecraft mods such as the sentient hammer and the elementium hammer.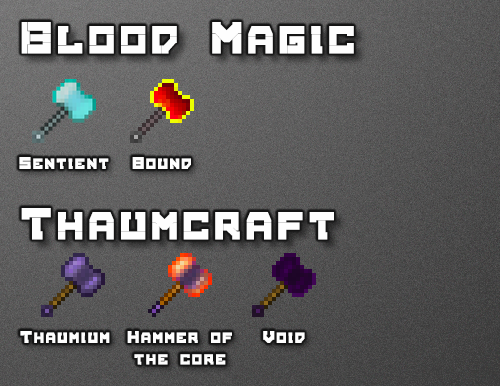 Compatibility and Technical Aspects
HammerX is available for Minecraft 1.12 and, since this is the kind of mod that only adds different kinds of items into the game and doesn't change the functionality of Minecraft in any way, it's unlikely that it'll cause any technical issues that would be significant enough to hinder your experience in any way at all.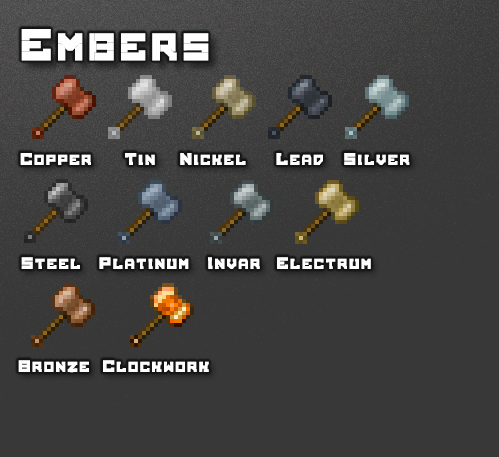 Conclusion
All said and done, HammerX might not be the most revolutionary or feature filled mod out there but it's still a mod that comes highly recommended from us due to the insane amount of useful hammers that it implements and, of course, due to its compatibility with other popular Minecraft mods.
How to install HammerX Mod?
Download and install the recommended Minecraft Forge for your Minecraft version.
Download the latest mod version for your Minecraft version.
Put the .jar file into the mods folder of your Minecraft installation.