If the name of the MeeCreeps mod sounds even somewhat familiar, then you're likely a fan of Rick and Morty, a series that's taken the world by storm over the past couple of years. Rick and Morty has gained quite a fanbase for itself ever since it initially came out, so it doesn't really come as a surprise that a mod inspired by it has already surfaced for Minecraft. The MeeCreeps mod has been inspired by the MeeSeeks in Rick and Morty who are basically creatures of sort that can be spawned to help out with a task before they end up disappearing again and, thanks to this mod, you'll have these in Minecraft as well.
The MeeCreeps mod basically implements a whole bunch of early game creatures that, much like the creatures that they're inspired by, can help you out with any task you don't feel like doing yourself. There are lots of early game tasks in Minecraft that feel rather tedious such as harvesting tons upon tons of crops, building a house, digging down shafts or lighting up an area but, thanks to the MeeCreeps mod, you won't have to do these tasks by yourself. You'll be able to spawn MeeCreeps, they'll perform whatever task you were doing for you and then disappear.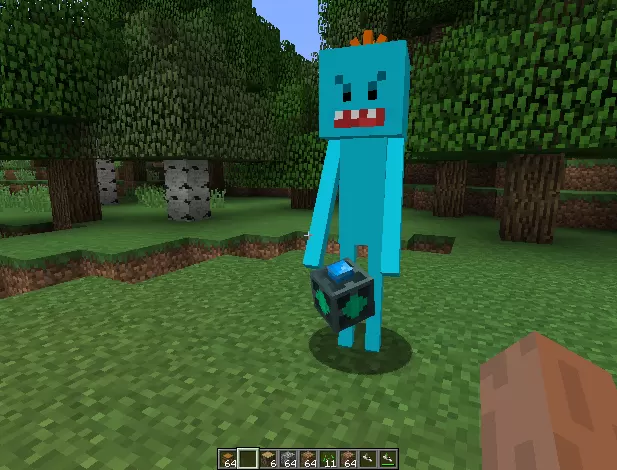 On top of the usual stuff, the MeeCreeps mod also features a fun portal gun through which players can make a connection between two different spots in the game world. The portal gun functions much like you'd expect it to since all you have to do is shoot it in two different places in order to form a portal that'll allow you to instantly move to and from these places. All said and done, MeeCreeps is a useful and effective mod that's going to streamline your Minecraft early game by a significant margin.
How to install MeeCreeps Mod?
Download and install the recommended Minecraft Forge for your Minecraft version.
Download the latest mod version for your Minecraft version.
Put the .jar file into the mods folder of your Minecraft installation.