Mine and Slash Reloaded is a Minecraft mod that's been designed to revamp Minecraft's combat system and in order to turn the game into a hack and slash experience that's thrilling and fast-paced. Minecraft's combat isn't bad by any means but its pace is definitely something that some players find slow. The goal of the Mine and Slash Reloaded mod is to completely overhaul the game's vanilla combat system into something that's more intense than the game's usual combat. If you're content with how combat currently is in Minecraft then this mod probably isn't for you but, if you think that it's due for a redesign, Mine and Slash Reloaded should be right up your alley.


Features and Functionality
Mine and Slash Reloaded is a mod that completely transforms Minecraft into a hack and slash game and the first step in doing so is to ensure that the game revolves around loot drops and a revamped stat system that gives players the ability to fine-tune their character's build according to their preferences. The mod also gives levels to all entities and requires players to attack by using energy as a resource and cast spells with mana. All the mod's different aspects come together to make for an immersive and fast-paced combat experience that's going to have players completely immersed once they've gotten the hang of it.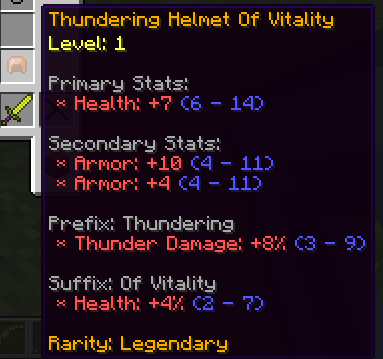 Compatibility and Technical Aspects
Mine and Slash Reloaded is a fairly in-depth mod and mods of this particular sort tend to have a few technical issues that occur from time to time but, as it turns out, this actually isn't the case here because there aren't any major technical problems with the mod that would hinder your experience in any way.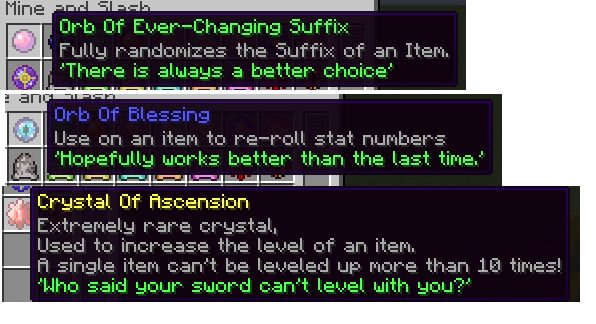 Conclusion
Mine and Slash Reloaded is, overall, an extremely well thought out and creatively implemented mod that revamps the combat in Minecraft and implements various systems that make the game feel a lot more engaging.
How to install Mine and Slash Reloaded Mod?
Download and install the recommended Minecraft Forge for your Minecraft version.
Download the latest mod version for your Minecraft version.
Put the .jar file into the mods folder of your Minecraft installation.