The Neat Mod is a very useful and convenient mod that doesn't necessarily do much to impact the gameplay directly but instead it adds a really useful visual element to the game that makes playing the game much more engaging. Neat has been inspired by the Tidy Plates mod that was designed for World of Warcraft, which is why you'll notice that both these mods are quite similar to one another. What this mod essentially does is that it adds a unit frame on top of every single in-game entity that displays a whole lot of useful information about said entity.
The frames that the Neat mod implements are very well designed and quite clear so they're easy to look at. They don't block the vision of other things either and blend in nicely with the game's environment. They aren't just standard health bars either since they have a lot of useful features in them. The big feature that a lot of players will appreciate is the fact that the bars change color depending on the HP of the health of the mob so a mob's HP bar color will be green if it has high HP, yellowish if it has medium HP and, of course, red if it has low HP. The mod also shows other important details about a mob, for example, its armor and, of course, its attributes.
The Neat mod is completely client sided as well so any changes that the mod makes will apply to your own client only which can be useful due to a variety of different reasons. The unit frames are configurable as well so you can edit a lot of things about them and customize them according to your preferences so that they only information they display is the information you want to know.
Neat Mod Features
Fully client sided
Health bars only show up if the mob is not obstructed
Health bar color changes depending on the mob's health % (green to yellow to red)
Shows the mob's attribute (for Smite or Bane of Arthropods) and their armor
Groups up health bars for mob stacks (like spider of chicken jockeys)
Configurable
Neat Mod for Minecraft 1.12.2 Changelogs
Added Armor Stands to the default blacklist.
Commented the blacklist setting properly.
Added the ability to see an entity's internal ID with F3 if you want to use it to the blacklist.
Fixed Neat nameplates breaking lighting.
Fixed some mobs not having the right name.
Configuration: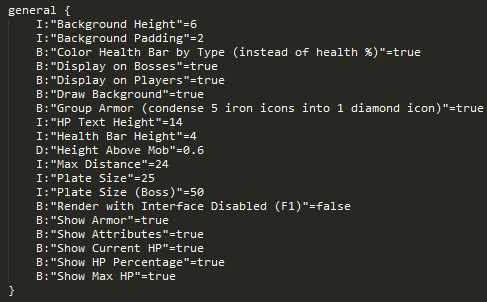 How to install Neat Mod?
Download Forge installer, open it and install
Open the Minecraft launcher and select Forge in the profile list
Click Edit Profile and then Open Game Dir, this opens the game folder
Create a new folder called mods
Download the mod and put it into the mods folder