The Showcase mod doesn't really make any major overhauls to the gameplay of Minecraft but is still worth trying out because of the neat little feature that it implements into the game. If you're looking for a mod that would add a ton of content and gameplay features into Minecraft, then you should probably consider trying out something else but if you're looking for a simple mod that'll allow you to display your items as if they were in a showcase then this particular mod will definitely deliver. It's pretty simple but can prove to be quite useful as long as it's utilized properly.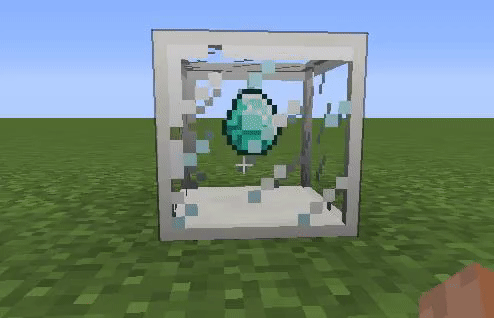 The Showcase mod is based on the showcase plugin that basically allowed players to setup their own shops within servers by displaying the items that were on sale. However, the mod takes the ideas of the plugin and makes various improvements in order to make things a lot smoother and overall more functional. The mod features a clean user interface that's easy to navigate around and a much better-looking block to showcase your items in if you want to sell them.
The great thing about the Showcase mod is that the shops you setup with it won't require you to actively play if you want to make sales and this is great as it allows you to setup a shop and do something else while people browse all the things that you have to sell. In order to sell your items, you'll need to set them up in the block that this mod adds and assign them a price once they've been setup. Players walking by the area will be able to browse your showcase and purchase the item if they like it. Overall, this is a great mod that you'll definitely love using if you want to sell things in servers.
Recipes:
Showcase:
Silver Coin:
Gold Coin:
How to install Showcase Mod?
Install Minecraft Forge.
Put the mod's .jar file you downloaded into mods directory.
Download Links for Showcase Mod
for Minecraft 1.10.2 / 1.10
Credit: DiabolicaTrix – Original Thread on CursForge