The Flying Things is a Minecraft mod that allows players to take to the skies through the various magical things that it brings to the table. Taking flight it something that pretty much every single Minecraft player would enjoy doing and, thanks to The Flying Things mod, players will have a variety of magical ways through which they can soar through the skies of Minecraft. The mod takes a while to fully setup and master but, once you've gotten the hang of actually using it, you probably won't want to stop because of how enjoyable flying becomes with it.
The Flying Things mod basically adds enchanted brooms and magical carpets that players can ride through the skies of Minecraft. Before you can actually craft and utilize these magical items, though, you'll need to locate the Phial of Animation that'll help you unlock the recipes to these things. The initial process of actually acquiring these magical items may seem like a rather tedious one to some but, once it's over, you won't have to worry about a single thing as you'll have access to the recipes and will be able to craft these items without any trouble at all.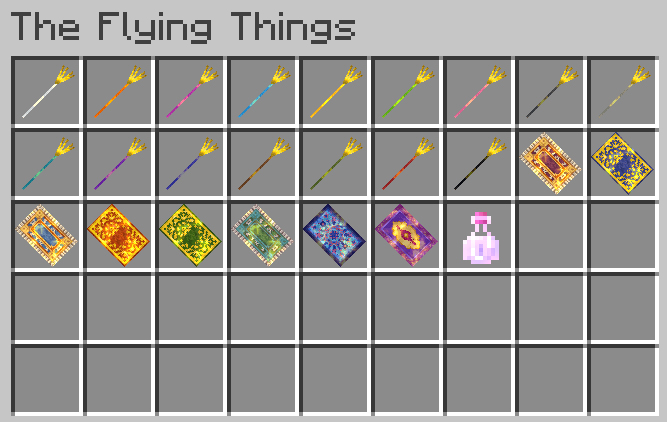 The controls behind the items featured in The Flying Things mod are fairly straightforward, so you'll be able to master them within mere minutes of use. Your first few moments with these flying items might seem rather intimidating but, as long as you remain focused, you'll develop a firm handle on the basics without much trouble. As for the technical side of this mod, it seems to be fairly immaculate so you probably won't experience any major issues that would end up hindering your overall gameplay experience. All things considered, The Flying Things is one of the most distinct and creative mods available and is certainly worth anyone's while.
Crafting Recipes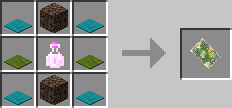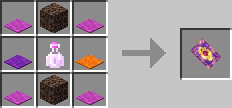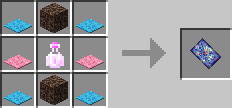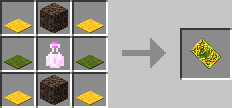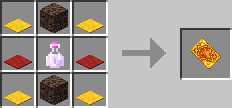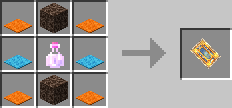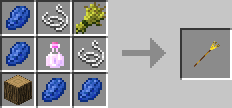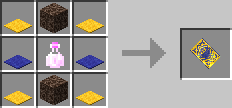 Mod Showcase
How to install The Flying Things Mod?
Download and install the recommended Minecraft Forge for your Minecraft version.
Download the latest mod version for your Minecraft version.
Put the .jar file into the mods folder of your Minecraft installation.