The music of The Beatles seems to be timeless. It was plain old pop back when it hit the airwaves for the first time, but the messages in the music and the compelling tunes have given many Beatles songs a strange lasting power possessed by the songs of few other bands. The Yellow Submarine mod is the perfect complement to Minecraft if you're looking to bring the Beatles into your world. The mod actually takes a lot of direction from the old Yellow Submarine movie, and if you're lucky enough you'll even get to beat up on the Blue Meanie since he is also added by the mod.
The Yellow Submarine mod pretty much requires you to be playing using Creative mode. This is because the submarine itself can't be built in Minecraft – you must use the specially designated Yellow Submarine item which is only available in Creative mode. Using it will cause the Yellow Submarine to spawn very close to where you right click. Once you enter, make your way to the control room and throw the very obvious, very lonely lever to get things started. This will transport you to the PepperLand Dimension, where you might expect to see Sgt. Pepper and his Lonely Hearts Club Band.
Shaped Crafting: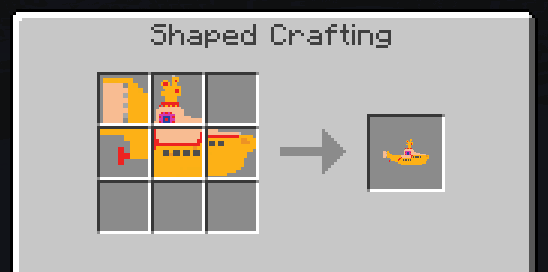 Several Blue Meanie mobs will be found lurking around outside of your submarine once you make the shift in dimensions. These are immune to most normal sources of damage too. Thankfully the mod author has provided you with trumpet and piano items, which will actually harm the Blue Meanie when used to play music within a certain range. Killing off all the Meanies will bring natural colors back to PepperLand, There are other custom mobs and a few recipes lined up for newer releases of the Yellow Submarine mod too, so expect updates in the near future.
Yellow Submarine Mod for Minecraft 1.8 Changelogs
Added Apple Bonkers, Snapping Turks.
Moved mod items to dedicated Yellow Submarine tab in creative inventory.
Fixed various minor bugs.
Download Links for Yellow Submarine Mod
for Minecraft 1.8 – Forge Required
Credit: alberyjones – Original Thread on Curse