The Instant Structures Mod or ISM for short is not the first mod of its kind in Minecraft. For a long time now, people have been tired of building the same structures over and over again every time they switch over and go to a new Minecraft world. This mod, like others of its kind, allows the player to place entire structures by putting down a single block. Whole houses, roller coasters, mansions, towers and more can all be created with a click of the mouse, taking much of the work out of populating your Minecraft worlds with structures and saving you from building that thousandth mob spawner.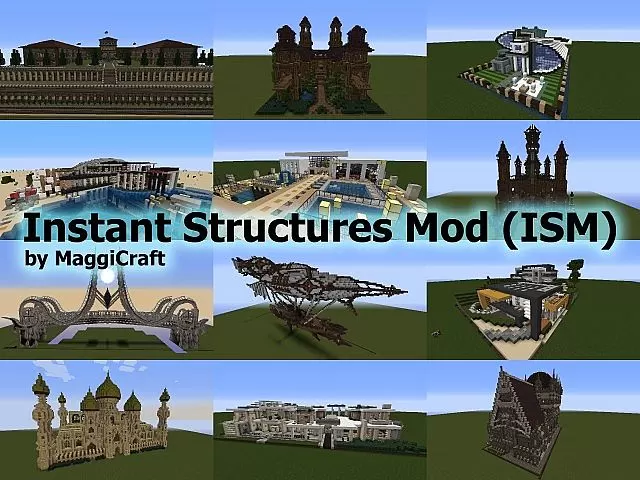 You can't just build whatever you want wherever you want, however. You need enough flat land for your structure to spawn upon, or else it won't work. To place structures with the Instant Structures Mod, right click on the ground to see if your structure will fit in the bounded area, which will be highlighted on your screen. If it will, then just click yes and the building will erect; if it won't, you'll need to move to another location. Naturally this mod is best on super flat worlds, but if you take the time to create a level plane, it will work in standard worlds just as well.
How to place structures?
How to install Instant Structures Mod?
Download and install Minecraft Forge for Minecraft.
Download the Instant Structures Mod JAR file in the follow location:

%appdata%/.minecraft/mods