Never Enough Candy is a mod that's been built to ensure that you never out of candy while playing Minecraft. There are various kinds of food items available in Minecraft so candy might seem a tad bit redundant at first but, given the current time of the year and the fact that this is actually an extremely well-designed mod, we can say with a high level of confidence that Never Enough Candy is a mod worth trying out. If you aren't satisfied with the current food variety in Minecraft and want to add some delightful candy to the mix, this mod will help you do just that.
The most impressive thing about Never Enough Candy is the fact that it comes with an insane variety of different candies that players can acquire. The candies are dropped by various kinds of mobs, and they all replace hunger points whenever they're eaten. Some of the candies can actually restore quite a bit of hunger points, but they're available in limited quantities so you won't be able to get your hands on them as often. The Never Enough Candy features special kinds of items as well such as cookies that players can eat to get bonus health regeneration or the Every Flavor Bean that they can eat to get any random buff.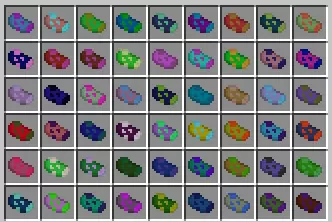 It's important to remember that all the items featured in the Never Enough Candy give the player sugar rush whenever they're consumed and this is something that you'll always need to keep in mind if you hope to make the most out of this mod. All said and done, Never Enough Candy is a fairly well-constructed food based mod that you should definitely try out if you want to add some unique kinds of food items to Minecraft.
How to install Never Enough Candy Mod?
Download and install the recommended Minecraft Forge for your Minecraft version.
Download the latest mod version for your Minecraft version.
Put the .jar file into the mods folder of your Minecraft installation.