Varied Commodities is a great mod that's been designed to freshen up the Minecraft experience for all the players who feel that the world of Minecraft is starting to become stale for them. As fun and immersive as Minecraft is, there's no doubting the fact that it does have a tendency of becoming repetitive if you play it for hours upon hours every single day. However, the thing that sets this game apart from others is the fact that it has tons of delightful mods that breathe new life into the game and make things feel fresh again. Varied Commodities is the latest addition to this line-up of content focused mods and, all things considered, it's definitely one of the best.
Before we go into any of the mod's specific details, we want to point out one of its most impressive features. The mod comes with its very own recipe book that players can craft and this recipe book holds all the recipes for this mod's items. Thanks to the recipe book, you'll never have to worry about not knowing how to craft items. Speaking of the items, almost all of them are expertly crafted, and they add a lot of depth to Minecraft in terms of its gameplay.
Going into the actual specifics, the Varied Commodities mod features a whole bunch of decorative blocks, special weapons, utility based items, tools, armors, shields as well as a ton of other stuff that players are sure to love. The items featured in the Varied Commodities mod were originally included in the CustomNPCs mod, but the fact that they're now available in a standalone mod is great because a lot of players have wanted access to these items but haven't really wanted the functionality featured in the CustomNPCs mod that came out a while back.
Note: You can find the recipes for this mod in the included recipe book.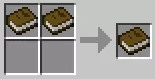 How to install Varied Commodities Mod?
Download and install the recommended Minecraft Forge for your Minecraft version.
Download the latest mod version for your Minecraft version.
Put the .jar file into the mods folder of your Minecraft installation.