MS Painted is a resource pack that offers an experience unlike no other with its distinct visuals and art style. We've had the pleasure of enjoying some pretty distinct resource packs over our many years of experience of Minecraft but MS Painted is definitely among the most creative packs that we've seen in a while. The pack might not make the case for the best looking resource pack but it certainly makes the case for one of the most unique resource packs out there and this should likely be more than enough for anyone to try the pack out and see what it has to offer.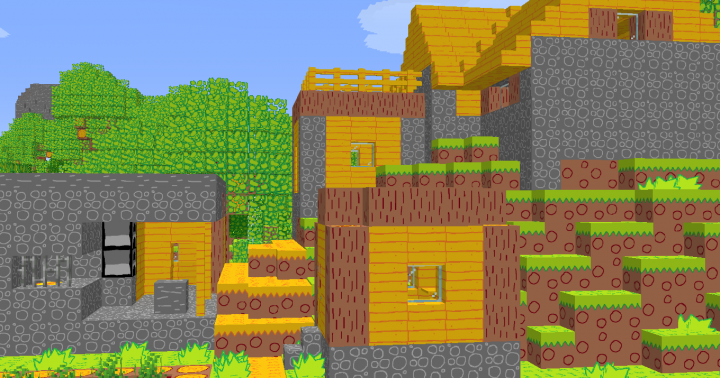 The thing that defines the MS Painted resource pack is the fact that each and every one of its textures was designed entirely in MS paint without using any special techniques. The end result of all this is a set of textures that doesn't really have that much detail to it but looks quite appealing nonetheless due to the incredibly unique design and also due to the fact that it's insanely smooth and completely free of noise. The colors of the MS Painted resource pack, as you'd expect, are extremely vibrant and quite bright. It's worth mentioning that the colors can be a little too much at times and the visuals would definitely be easier on the eyes with a darker color palette but, all things considered, this is a minor issue that likely won't affect you all that much.
MS Painted has textures of a 16×16 resolution and this low resolution doesn't come as a surprise at all because the textures of MS Painted aren't the kind to require a higher resolution. The positive side of this is, of course, the fact that the low resolution will allow you to use the pack on any computer regardless of its hardware.
How to install MS Painted Resource Pack?
Start Minecraft.
Click "Options" in the start menu.
Click "resource packs" in the options menu.
In the resource packs menu, click "Open resource pack folder".
Put the .zip file you downloaded in the resource pack folder.